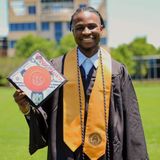 Zacchaeus T
My name is Zack Towner and I am a videographer/video editor.
Videographer in Canton, Georgia
I have been involved in video production for roughly two years now and I absolutely love it. My skills and knowledge of video have been acquired educationally, professionally, and personally. In addition to being a videographer/video editor, I am a director, producer and writer; as I have worked on a variety of creative content. My portfolio includes mini-documentaries, short films, music videos and more. I provide a variety of services when it comes to video production. What I am looking for in a job is a chance to showcase my talents to either help a team, and or client achieve their mission on a particular project. Creating is my passion and I would love an opportunity to present that to an employer.
Recommendations
Amir Blaylock
I recommend Zacchaeus T as a videographer
Mitch Olson
I recommend Zacchaeus T as a videographer
Bobby Gutierrez
I recommend Zacchaeus T as a videographer
Share This Profile
Find Videographer in Canton, Georgia