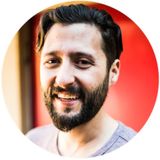 Matthew Anthony M
Write. Shoot. Edit. Repeat...
Videographer in Oakland, California
Matthew Moglia is the creative director for Write. Shoot. Edit. Repeat... and a freelance Screenwriter and Director. His career started in 2001 where he worked at creative think-tank Stupid Fun Club as a film editor for Will Wright, creator of The Sims, SimCity, Spore and TV's Battle Bots. In 2003 Matthew moved to work in Los Angeles for Producer Topper Carew, creator of the Martin Lawrence Show. In 2005 Matthew traveled to Ecuador, Peru, Bolivia, and Brazil to direct a travel series for Osterloh Films and PBS. In 2006 Matthew transitioned back to San Francisco to work as a producer for GB Films alongside veteran producer Andy Hill. With GB Films Matthew pitched his original web-series to Sony which they green-lit for production. Titled Judgement Day starring Kamau Bell (CNN's United Shades of America) was directed by Matthew for Sony's Crackle which expanded production to New York and Miami by the end of the year. In 2009 Matthew developed and built a 6000sq/ft production facility which became Athena Studios run by award winning designer Jon Peters. In 2011 Matthew produced a feature action film directed by Henry Kim, titled No Rest for the Wicked and produced a short film directed by Eric Wilson (Editor, NCIS: Los Angeles) titled The Coffers which was bought by ShortsTV and aired nationally. In 2013 Matthew returned to work with Henry Kim to produce a sequel to No Rest titled At Dawn they Sleep starring James Kyson (Heroes, Despicable Me). In 2013 Matthew began working alongside cult hero screenwriter Victor Miller, writer-creator of Friday the 13th, to develop a feature film titled Save the Grind. At the same time he developed the storyboards for Save the Grind alongside Hollywood Storyboard Artist Chris Buchinsky (Brüno, As Good As It Gets, Dodgeball, Spider-Man 2, and Office Space). Currently, Matthew is working on a TV pilot titled Lakeside, dubbed "The Seinfeld of Oakland."
Share This Profile
Find Videographer in Oakland, California
More in Oakland, California