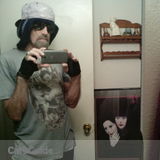 Robert T
videos good enough to post on YouTube
Videographer in Sacramento, California
I recently retired as a teacher's aide, computer technicians aide, and all-around general helper at the Twin Rivers School District Sacramento, CA where I worked off and on for about 20 years. I started making videos a few years back for a couple of rock bands that I would then post on YouTube. Now that I am at home a lot I thought I would try my hand at Professional Videography. I think my videos are very good, and would be able to generate for a business customers depending of course on how much one wants to spend on Google AdWords to promote the videos.
Recommendations
John Davis
I have known Robert Thomson for several years now. He is a reliable and hard working videographer. He is also very creative in his work. I am a singer/songwriter. He has taken many of my recorded songs and created fantastic videos to go with them. He turned my audio recordings into a work of art. I highly recommend that you consider using him to work on your next project.
Phelps Hobart
I recommend Robert T as a videographer
Richard Montoya
I recommend Robert T as a videographer
Lillian Hanson
June 23, Robert makes really good videos. Lillian Hanson
Tuly Ko
I recommend Robert T as a videographer
Kathy Cassidy
I know Bob, he has done alot of computer work for me. Has shown me to how to play and create videos. He sees his work through to completion. Has a good understanding of what he is doing. Helps others with their computers and questions. Does ensure he has an understanding of what the issues are. Thank You, Kathy Cassidy
Vi Sledge
Robert Thompson is trustworthy and a diligent worker. He always gives more service than is expected. He is dependable, and the kind of man one would always want to have in both good and difficult times.
Share This Profile
Find Videographer in Sacramento, California
More in Sacramento, California