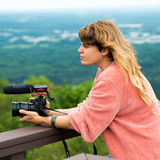 Zusel E
When you are the camera and the camera is you.
Videographer in Miami, Florida
I am a Documentary Filmmaker and Non-profit Videographer working out of South Florida area. I think of film as a tool to empower, accelerate crowd learning and create social change. In addition to creating socially conscious films, I have shot and edited promotional videos for web and broadcast advertisement for small to medium sized companies, developed and produced commercials, music videos and product videos, as well as short films and one feature length film. I handle multiple production duties including camera, editing, lighting and audio, to provide you, the client with the most creative and effective story for your concept, product, or event.
Share This Profile
Find Videographer in Miami, Florida