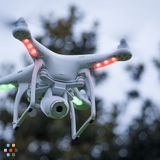 Erik H
Drone Photography/Videography hire an operator here Dji Phantom 2 (South Dakota)
Sioux Falls, South Dakota
Last seen over a week ago
Pay negotiable
Want to connect with Erik?
Videographer in Sioux Falls, South Dakota
Fellow South Dakotans,
I would like to introduce myself as one of our state's ushers into a new era of applied technology and sciences- the robotic era. As you may have seen on major news networks, and also on Kelo-land; robotic implements such as: small flying drones, large bi-pedal humanoid platforms, and even "robo-cops" slated for 2016 operations, will become the norm, and will undoubtedly change the way we look at ourselves, and our small corner of the world. The applications for these platforms seem limitless, so I will narrow down my experiences, and offer some examples of what I can provide to this state. Im currently the owner and operator of a 'DJI Phantom 2 Vision,' this is probably the most highly publicized drone platform, as it was used in the filming of 'Man of Steel' the 2013 blockbuster that brought Superman back to the big screen, in a big way. These Ariel photographers are far more dexterous, and vastly more efficient than helicopter-mounted rigs, which use undoubtedly expensive amounts of fuel to film. Spending time at my grandparents farm, the first application I noticed, was simply the Ariel footage I could obtain over the course of an hour. It records in 14 megapixel at 1080p resolution; which simply means, after the footage is obtained, it can be given to the property owner (client) to look over at their own speed, and any time one 'pauses' the film, the sheer resolution of the footage allows the viewer to zoom in, with more clarity, on whatever the issue may be. From leaky roofing, animal intrusion, structural erosion, or defective machinery, the phantom (with a skilled operator) could provide vital, and more importantly, SAFE survey of just about about any structure in the state.
Here are more uses, off the top of my head, that I could provide:
-Crop monitoring
-Cattle monitoring and hearding
-Structural investigation (i.e. Wind towers, grain silos, water towers, bridges)
-Home security
-Land survey
-Emergency Response

Other commercial applications:
-Fly over footage of outdoor weddings (can be flown right down the aisle and spiraled up around the bride/groom for dramatic imagery)
-Footage of outdoor sporting events (our local little-league, upward to collegiate games, could be filmed for more perspective, or to highlight major plays)
-Footage of local events (street dances, auctions, rodeo, charity events like the polar plunge)
-Senior videos (yes, as the youth have more options at hand, they will want small clips of them playing sports, driving their prized vehicles, or performing in front of audiences)
-Programmable Roving patrols of events in need of higher security.
-Back yard reunions or at home graduation parties.
-Local filmmakers, and even news report footage.

These are just a few, of an undoubtedly larger array of events and ideas; applicable and executable, via trained drone operation.
I can be contacted, anytime, through e-mail ([email protected]) via text (preferred) or phone at: 720-539-...
I reside in central South Dakota, and am willing to travel pretty much anywhere, even out of state if necessary. This is a fast-paced and almost Brand-new market, I can assure you that I can match, or provide a cheaper session than any other operator out there. I studied the principals of aviation in the United States Air Force, and have certifications related to this practice. Im a born-and-raised South Dakotan, and can relate to the agricultural aspects and applications of flight. I also studied photography at Southeast Technical Institute, which has allowed me to add artistic interest in my footage, and to apply my mechanical/technical abilities in photo/video production. I am also a graphic artist, so upon request, I can provide artfully edited footage with transitions and typography, or we can run quick sessions for footage thats needed simply for utility. I want to start 2 hour sessions at 100$ each, during this time, we can capture 45minutes of footage that can be re-watched, and re-examined infinitely, after the client is satisfied all they needed has indeed been documented. Any time spent away from the location (i.e. Video editing, or enhancing specific shots) I will log, and would like to be compensated for, at the rate of 25$ per hour. If it can't be completed in session, on location, Im sure the client would only need one or two more hours from me at the most. Resulting in a 100-150$ bill. Thats not bad when you're not risking life-and-limb climbing tall structures, or making sports, or family history.
I would also like it to be known, that if you wish to purchase a Drone of your own, I can provide the necessary training and bring you up-to-date with the technology in one session. I can also advise you on which technology to buy, suited for your use.

Thank you for your consideration, and as always, I will be looking to the future with an admiration for robotics, and helping others to understand and utilize them for purposes commercial, industrial, and personal. I hope that some you can share in my interests so that I can establish myself as the best operator in state- and soon I hope to cross-platforms (operate other robots) so that I will be able to offer a wider selection of services. This is my first advertisement, so as the business "takes off" there will be changes, I'll have a company name and all that goes with it.
---
Similar Profiles Nearby
Near Sioux Falls, South Dakota

Craig W
Award-winning Sioux Falls filmmaker specializing in creative, authentic storytelling

Erik H
Drone Photography/Videography hire an operator here Dji Phantom 2 (South Dakota)

Tom D
We want to make your Video!
Find Videographers in Sioux Falls, South Dakota
More in Sioux Falls, South Dakota
Want to connect with Erik?
Similar Profiles Nearby
Near Sioux Falls, South Dakota

Craig W
Award-winning Sioux Falls filmmaker specializing in creative, authentic storytelling

Erik H
Drone Photography/Videography hire an operator here Dji Phantom 2 (South Dakota)

Tom D
We want to make your Video!