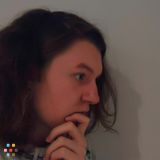 Kjel S
Music Video Proposal for a Videographer or Animator - Collaboration
Vancouver, British Columbia
Last seen over a week ago
Pay negotiable
Videographer Job in Vancouver, British Columbia
Hello friends :)
I am looking to collaborate with someone in creating a video for my music. I recently released my first album, Ad viger, which can be found here: https://....com. I'd be interested in working with either a videographer or an animator (or stop motion, or anything else you can think of). I don't really have a preference, so long as you are a creative, thoughtful, open-minded person who is dedicated to creating meaningful work. The tracks that I think would work best for a music video are It will soon pass and All the things you aren't, but if another song strikes you and gives you ideas, I'd definitely be willing to hear you out. The same goes for the video itself. I want this to be a collaborative process. So I have some ideas, and I definitely want to have a lot of input, but I'm not looking for a minion. I'm looking for another creative mind that can help to guide and build my ideas while contributing their own ideas. As an idea of what I'm into video-wise, here are some videos I love.

Non-Animated Videos

https://....com Get Free by Major Lazer and Amber Coffman is one of my favorite videos ever. I love the idea of montaging a bunch of random experiences which creates a kind of illusion of taking a car ride through your life and watching as the most simple, joyous, and meaningful moments flicker by. This is a sort of idea that was present in making this music. It could be interesting to explore this idea but with home-video footage.
https://....com Fjögur píanó by Sigur Sigur Rós is fantastic, and I like that it has rather profound music but the video ranges from very profound (5:54) to really absurd and hilarious (2:50). This juxtaposition of contrasting emotions is another thing I'm really interested in and try to use in my music. (I'm not really into HA HA humour like punch lines and what not but I really like more subtle humour, involving situations, characters, irony, absurdity etc.)
https://....com Save your scissors by City and Colour has always been a special video for me. I love how he highlights the mundane aspects of life like buying guitar strings and laughing with friends. I like the idea of taking footage from going for a walk in the rain or sitting in a graveyard with a bunch of friends at night. That nostalgic teenagery kind of hoodlum aesthetic.
https://....com Everything You Do Is a Balloon by Boards of Canada is one of my ALL TIME FAVORITES and I think it's just total perfection. I like the idea of capturing the teenagery/childlike innocence and simplicity of spending time cruising around town on bikes looking for something to do.
https://....com Yumeno Hajima Ring Ring by Kyary Pamyu Pamyu is great. I love everything Kyary does I think it's fantastic. This is probably a bit too bright and exuberant for my music, but it gives you an idea of another dimension to my taste. I love adorable, playful, humorousness so it would be nice to have some of that.

Animations

https://....com Feel Good Inc. by Gorillaz (or Clint Eastwood) is of course a timeless classic. Might be a bit dark/grotesque for this current music but I like the sense of wonder with the island windmill in the clouds and the overall energy. I remember being amazed when this came out.
https://....com Paranoid Android by Radiohead is awesome. Again, this may be a bit angry for my music. My current music is not quite so bitter at the world as it is lost in wondrous contemplation and introspection. But I like the teenagerness and overall aesthetic of this video.
https://....com Kandi by One Eskimo. Though I'm not crazy about the song and it's not my favorite video, I do like the cute random use of a penguin!

As you've probably gathered from my taste in music videos and my music, I am not looking for a technical work or Hollywood production. In fact, it's vastly preferable if there are some rough edges/vulnerability/humanity in the videos as I think there are in my music. I am simply looking for something that can attempt to do justice to a lifetime of curious, confused, wonder at the gorgeous tragedy that is life. Though it would be nice to have the capability of high resolution video, I think it would be delicious to have some grainy shots/shaky camera work or what have you. Even if the entire film was just a montage of homevideo footage from the 90s that could be incredibly beautiful (I might be able to get my parents to convert their stash of VHS to digital xD). So basically in summation, I like things that are thoughtful, profound, hilarious, adorable and colourful (preferably turquoise). If you are a visual artist and you jive with these ideas, email me at [email protected] or text or call at 778-840-....

Onwards! Kjel Sidloski t have a whole lot of coin to spare. Let me know!
---
Similar Profiles Nearby
Near Vancouver, British Columbia

James E
Treasure hunter seeks a drone operator

James E
Aging treasure hunter seeks videographer for a late summer treasure retrieval

Sunita P
AcroYogis Seeking Videographer

Marika C
Videographer Needed For Hoop Dancing Promo Video

Kjel S
Music Video Proposal for a Videographer or Animator - Collaboration
Find Videographer Jobs in Vancouver, British Columbia
More in Vancouver, British Columbia
Similar Profiles Nearby
Near Vancouver, British Columbia

James E
Treasure hunter seeks a drone operator

James E
Aging treasure hunter seeks videographer for a late summer treasure retrieval

Sunita P
AcroYogis Seeking Videographer

Marika C
Videographer Needed For Hoop Dancing Promo Video

Kjel S
Music Video Proposal for a Videographer or Animator - Collaboration